Genesis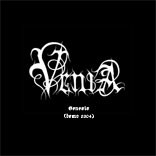 Tracklist:

1. False Security (lyrics)
2. Ei mun tarvitse (lyrics)
3. Tormented Souls (lyrics)
4. Eternal Sanctuary (instrumental)
5. Taivaassa (lyrics) (mp3)
6. Miks (lyrics)
7. Genesis (lyrics)

total running time 33+ minutes.

Recorded at Filadelfiaförsamlingen i Helsingfors, June - August 2004.
Mixed and mastered by Elias Luoma and Ilpo Istolainen.

The demo was released at concert in Otaniemi 08.09.2004.

The demo is now sold out and out of print.